Wednesday, July 24th, 2013
---
9:47 pm
- I'm in wisconsin.
I told a t-shirt salesman it was funny
that they were selling a print of michigan
with "milwaukee" scripted over it.
he protested that it was the great lakes,
and I said, "no, that's michigan."
he pointed to the left side and said,
"there's wisconsin."
and I pointed to the obvious mitten and said,
"there's michigan."

current mood: there's no place
Monday, February 18th, 2013
---
8:26 pm
- i had a wild bird moment.
remember how
your parents told you
not to touch the baby birds
because their moms wouldn't
recognize their smell
and leave them to die?

nathan brought ransom home
after an evening at his parents'
and he didn't smell like my baby
anymore.

(i know better.)
Wednesday, March 16th, 2011
---
9:35 am
- relatives
i'm so excited about this summer
when my cousins and my uncles and aunts
are coming over from the west
for a family reunion in michigan.
jumpingupanddown.

lidia, nathanael, aaron, andy,
mark, eric...

nathan stops me.

"who's eric?"
"you know, i have two cousins
in texas."

"i think you just go up to people
and ask,
'do you want to be my cousin?'"
Saturday, January 1st, 2011
---
11:47 am
- we're all stories in the end.
most of my life seems to have happened
this past decade.

2000 - i graduated from high school, started college at rochester, got my license, bought my first car, dated for the first time.

2001 - volunteered for the summer as a counselor at camp barakel, met nathan holt (my future husband), presented with viral meningitis, pursued art/drawing along with english.

2002 - ran away from nathan, volunteered for the summer as an archery instructor and counselor.

2003 - five iron frenzy died, volunteered for the summer as an archery instructor and counselor.

2004 - graduated from college, took a train with my brother to visit my family in california, reconnected with nathan, started full time at rochester.

2005 - the perhai's came back from ukraine for the year, nathan asked me to marry him.

2006 - nathan and i married, bought a townhouse, settled down, and flew to california for christmas.

2007 - my job ended at rochester, nathan got a job at beaumont, missions trip to ukraine to help the perhai's, my friends josh and tim died in a car accident.

2008 - sold my trusty car, started part time at the ups store and the sla, nathan got his paramedic license, i opened my shop on etsy, went to the silver lake sand dunes, bought kayaks, nathan had the helpful knee surgery, my fatherinlaw cut off his finger, i did a lot of cross country skiing.

2009 - my pastor died, i learned to drive a stick shift, kayaked the canal at belle isle and lots of other bodies of water, started collecting and cutting up license plates, my family and nathan and i drove to california to see my cousin marry and visit my grandfather in arizona.

2010 - my dear friend kathryn moved in with us, nathan and i lost the rest of our grandparents (first his grandma, then mine, and my grandpa), my etsy shop became my main job, i learned to make leather belts, went on a vacation with vanessa (first time without nathan), explored detroit on bike and on foot, put on my first craft shows.


Resolution for 2011:

get outside every day.
i am a slave to the house
and the indoors
even more so than when
they paid me to sit behind
a desk.
self-employment
is my worst boss.
Sunday, December 19th, 2010
---
9:18 pm
A hundred words to talk of death?
At once too much and not enough.
My plans beyond that final breath
are currently a little rough.

The dying thing comes on so slow:
reluctance to get out of bed
is magnified each day and so
transmuted into dead.

I dream of dying all alone,
nobody there to watch me pass
nothing remains for me to own,
no breath remains to fog the glass.

And when I do put down my pen
my memories will fly like birds.
When I am done, when I am dead,
and finished with my hundred words.
-Neil Gaiman
Thursday, May 20th, 2010
---
10:51 pm
- how to get real human tears for your next scavenger hunt.
me: my dad has always encouraged my writing. except for once, when i wrote a story i called "the asinine", and he was like, "why do you have to use that word?" it's not like i was using the word "ass."

claire: is that a real word? my mom uses it, and i always thought she made it up. whenever she gets mad, she says, "that's as-nine!"

kathryn: no, it's a real word.

me: how does she pronounce it? ass-nine? "that was the ninth ass!" it's like she was just putting up with the other eight!
Monday, May 10th, 2010
---
12:10 pm
- hamlet's got a skull in it.
with daria coming out on dvd soon,
and our friend kathryn clueless about the show's existence,
my brother and i recited a bit of dialogue for her benefit.

what i love is that william did the girl part,
and i accompanied with the boy part.
it was legit!
Monday, April 19th, 2010
---
10:59 am
- flea market.
nathan told kathryn

'usually amanda has no
backbone.
but watch her haggle for
license plates.'
Saturday, April 17th, 2010
---
11:14 pm
- bill cosby.
my brother was about to walk home from my house this evening,
and i pointed out
that with his headphones on,
he makes for an easy target.

he said,
'but amanda,
monsters cannot attack you
when you have your music.'
Wednesday, April 7th, 2010
---
11:45 am
- winter is for snowing.
Monday, March 8th, 2010
---
11:23 am
- cutting metal.


my license plate buckles are getting
a lot of recognition lately.

i've been busy.
cutting metal
and grinding sparks.
Friday, January 15th, 2010
---
11:24 pm
- my brother always said laundry was dangerous.
when i was a kid,
i hated my bedroom.
nightmares have a tendency to stick to things,
like closet doors and the dark places
underthebed.

even now, when i climb into bed,
leftovers from dreams of the previous night
are splattered all over the pillowcase
and smeared on the underside of the blankets.
i may have forgotten what i dreamed last night,
but the bedclothes remind me.

maybe if i wash the sheets every day,
the bad dreams will really go away.
Tuesday, January 12th, 2010
---
6:33 pm
- 2010
the year ended with a drive across the country
to see my family in california.
highlights:
abi married dan
and we broke down in tucumcari by a couple of junkyards.
that is love.

christmas involved a lot of cutting metal in the basement.
now that's over,
i can concentrate on the important art
of cross country skiing.

current mood: already know an awful lot of
Saturday, September 5th, 2009
---
7:57 pm
- the episode of the squirrel.
nathan and i did actually make it
up north before august ended... barely.
we kayaked up top the mio dam on the ausable.
on a tributary, i found a black squirrel
drowning in the river, caught up by a fallen tree's branches.
using my paddle, i rescued it,
and nathan heroically led it across the river
where it so desperately wanted to go.
he placed it on the opposite bank, and it lay there a moment,
then leapt desperately into the brush,
just in case we changed our minds on the prospect of squirrel stew.

every now and then
nathan will lean over and whisper:
'we saved a squirrel!'
Thursday, August 20th, 2009
---
6:28 am
- time to say goodbye to more friends.
we drove a king-sized mattress and its boxsprings
mexican-style from auburn hills to clarkston
on top of our little twodoorfocushatchback
so that charity and joel and lively have a new bed.
lively has stolen my heart.
as if charity didn't already!

nathan and i enjoyed a day of kayaking
on belle isle's putrid canals.
[something no one has done, it seems,
for at least fifty years.]
i still haven't been able to count the bridges.

when we returned home,
i found that someone had purchased
both of the buckles in my pieces of eight series.
Wednesday, July 22nd, 2009
---
1:00 pm
- an exciting first.
my 42 belt buckle
made it to the front page of etsy!




...and got lots of attention.
Sunday, July 5th, 2009
---
11:16 pm
- things that try to escape.
on our bike ride,
i found a stray bungee cord in the road.
i picked it up and gave it to dad,
who uses them to hold down a tarp on his truck.

he gave it a look and said,
'i'm always suspicious of bungee cords in the road.
they betrayed their masters,
so will they betray me?'
Friday, July 3rd, 2009
---
9:05 am
- happy 4th.
a couple features while i'm on vacation: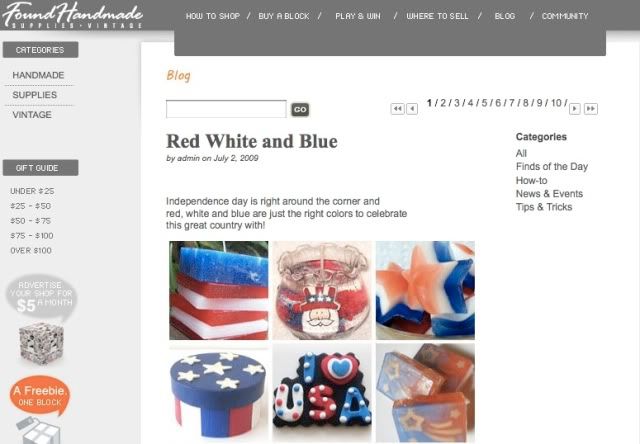 another one for the patriotic buckle.




a first feature for my rainbow hat.
Friday, June 19th, 2009
---
9:22 pm
- another feature.
my buckle is featured in the bottom corner.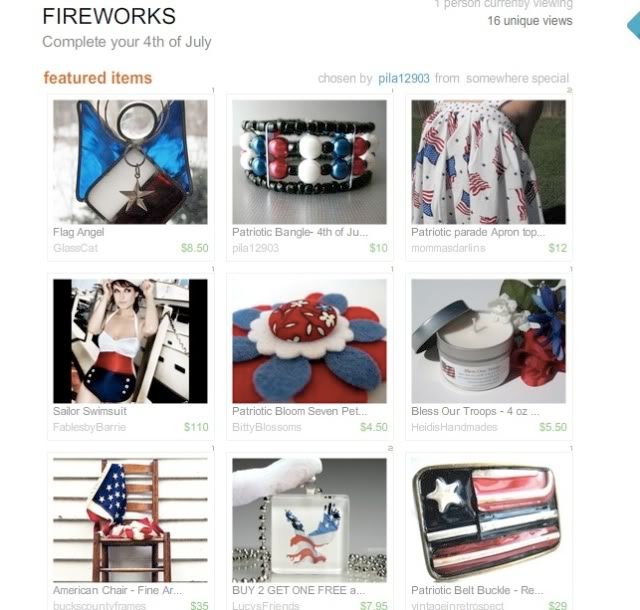 dizzy, anyone?
Thursday, June 18th, 2009
---
2:32 pm
- feature